8/29/06
My beloved Murph Murph
With immense sadness I helped my sweetest baby Murphy travel to the Rainbow Bridge at 9:15 am this morning. She was 16 years old in May and I had her from the time she was 4 months. I got her when I was a poor graduate student living in a rented room at the top of a 4 story house. I accompanied a friend to the humane society in Philadelphia and I saw this little girl and when I went in her cage, she peed on my foot. Love at first sight. It was one of the most irrational decisions I've ever made (yes, I was kicked out of my housing immediately) but one that brought me 16 years of friendship from this quiet little girl. She loved food more than anything else and despite being virtually untrainable in any practical things she would drop to the floor and roll over playing dead in a heartbeat when she heard "bang, bang" because she knew a treat would always follow. She just always tolerated McDuff - he was so loud, such a big personality that she withdrew a little into the background once he came. As my dear sister (who I hope is now nestling close with Murph at the Bridge until I get there) used to say "It took McDuff coming to make Murphy look like a good dog." Now with her brother McDuff, her Aunt Margaret, her cat friends Fetlock and Ugly, she waits at the Bridge for me to come and play some Bang Bang with her. It's been such a horrible year of loss for me and now I say goodbye to one of my oldest friends. Farewell, sweetest little Murph Girl. Bang Bang.
Mickey
Mom to Murphy ATB, McDuff ATB and Morrisey
<![if !vml]>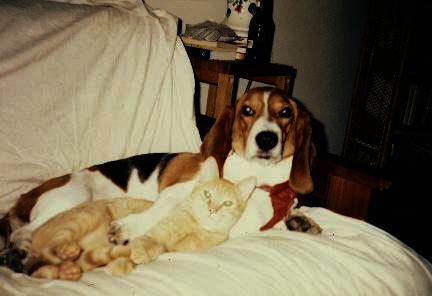 <![endif]>
Murphy and Fetlock when both were young and healthy, 1992
<![if !vml]>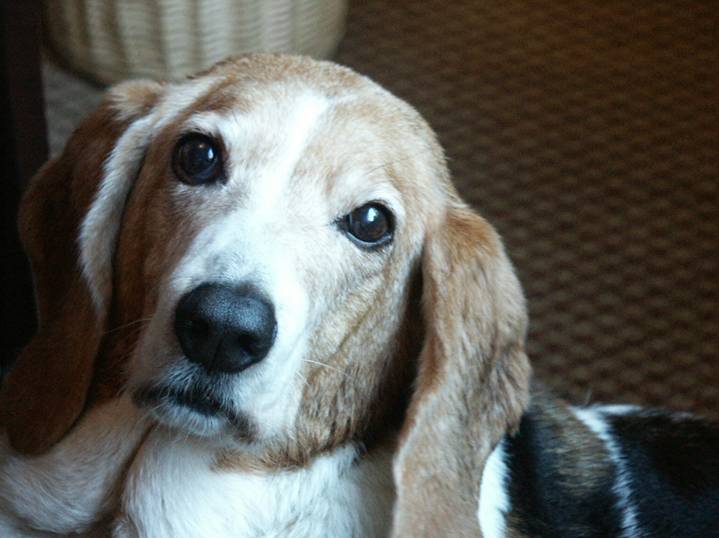 <![endif]>
Murph 2004
My Murph:
Her eyes were bright and curious until the end. I felt so guilty as I looked into her eyes and saw her asking , what's happening, and then why? Her back legs gave out and she couldn't walk but everything else was fine. She liked to sit in the sun, always sat in the kitchen when I was cooking, still caught "drops" easily. If only her back legs had kept up.
One of our favorite games was hide and seek in the woods. We'd go for a hike and then she'd get a little ahead and I'd duck behind a tree and just wait. After a few minutes she'd realize I wasn't with her and she'd flee back along the trail. She'd pass me as I hid behind the tree and just as she was starting to run harder and panic, I'd step out and call her name and she'd be so happy that I was there. She loved our rambles. So did I.
When she was much younger and we lived in DC I'd take her to rock creek park where there was a great dammed up stream. I'd stand on the bridge/dam and throw a tennis back into the stream. Murph would go fetch it and swim back with it in her mouth.
When McDuff came in 1997 she was fine for about a month. When she realized he wasn't leaving, she got really sick. The vets couldn't figure out what was wrong – she had intense fur loss, lethargy, and they started to talk about "decisions". Well, they never did figure out what was wrong but I know it was jealousy. And after a month or so, she got over it, got better and got on with her life.
She had a lot of heart. I hope she's with Margaret somewhere with lots of grass and maybe a wood to ramble in.
I love you Murph. I'm so sorry I had to do this.
<![if !vml]>

<![endif]><![if !vml]>

<![endif]><![if !vml]>

<![endif]>
7/15/06
Video of two year old Morrisey pepping up a 16 year old Murphy
basset_index_files\dogs playing.MOV
basset_index_files\morrisey and murphy.MOV
<![if !vml]>

<![endif]>
7/21/06
Ode to McDuff, the big Kahuna