Holidays Are Done, A New Year



Well, the holidays are over. 2006 is over. And was I ever ready to turn my back on the saddest year of my life.
The holidays weren't any more painful than every day is without Margaret. I miss her more on Saturday mornings when I still sometimes expect to hear the phone ring and then hear her voice saying "Hey, what's up?" But, in a world that revolves around Christmas, it's strange to on the outside of that hoopla. I was back in Ames for a few days and I spent a lot of time on Christmas Eve and Christmas Day driving around the deserted Iowa State campus. And there, even at 8pm on Christmas Eve, were individual rooms lit up in otherwise deserted buildings. And walking through the student union I saw faces of the international students with no families to join.
On Christmas, my parents took Annabelle to a potluck dinner with some of their friends ….
<![if !vml]>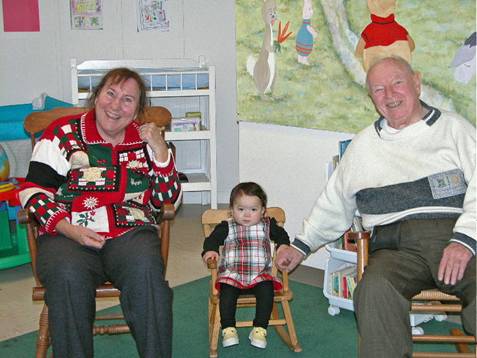 <![endif]>
<![if !vml]>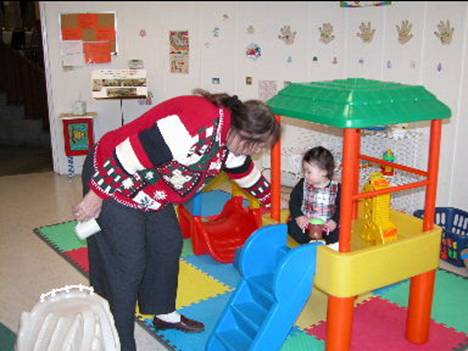 <![endif]>
<![if !vml]>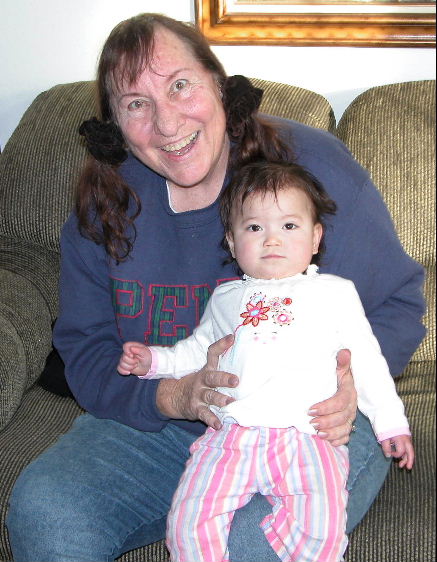 <![endif]>
….so I found myself free for a few hours.
I found an Indian restaurant open and then it was on to the TipTop Lounge, a dive bar on the edge of town, where I met my friends Judi, Jamie and Heidi who were all holidayed out from an overabundance of family time.
<![if !vml]>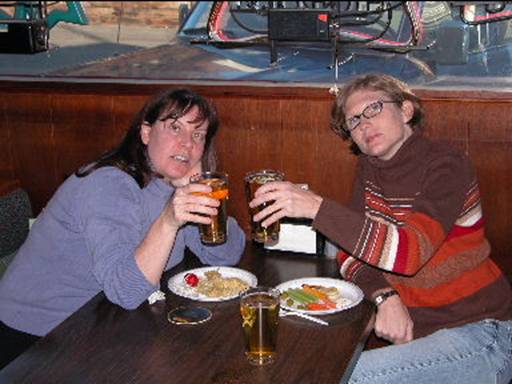 <![endif]>
We sat in one of the completely empty booths while the "locals" (they all seemed to know each other) gathered at the bar for the traditional and festive combo of MGD and Menthol Kools. There were depressing moments like when a well dressed man stumbled out of a taxi (thank goodness) and into the bar trying to buy a bottle of bourbon so he could "survive the [expletive] holiday". When the bartender refused, he begged "give me anything, I'll take anything". And I thought to myself, "there are worse things that being a student working in your lab today…."
Annabelle had her 15 month well-baby checkup in January. She continues to sprout up. She weighs a whopping 21 lbs and is 30 inches. She ate her first pieces of broccoli voluntarily, demonstrated healthy taste by loving my crockpot lentil soup, and had her first pasta dinner with tomato sauce.
<![if !vml]>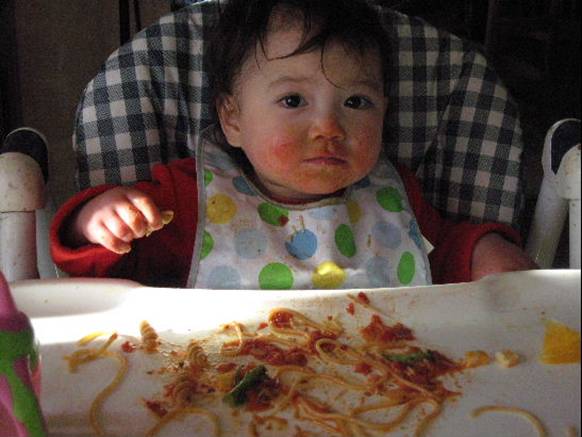 <![endif]>
<![if !vml]>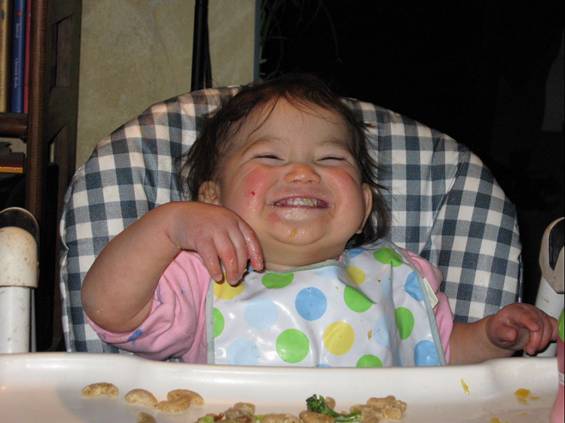 <![endif]>
We've started a new tradition on weekend mornings when we have time to lounge around. I usually cook pancakes while Annabelle sits on the counter and we "chat" (it is amazing how much she can communicate.
<![if !vml]>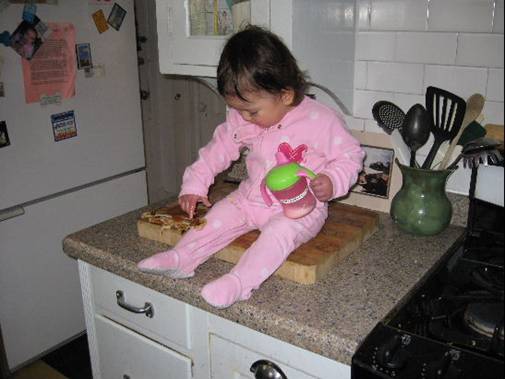 <![endif]>
Annabelle was referred to a pediatric eye specialist because she has a blocked tearduct. She will have surgery on February 22 to correct that. It's not a major surgery but does require general anesthesia so that's a bit scary. The doctor also said that Annabelle is quite nearsighted and will likely need glasses by kindergarten. I wouldn't have figured you could tell nearsightedness on a baby. Oh, excuse me, on a Toddler.
Yes, that's right, Annabelle did move from the Infant room at daycare to the Toddler one. She adjusted just fine but I grew very emotional and weepy thinking "Oh how my little girl is growing up." The biggest adjustment is that she now is supposed to sleep on a cot rather than in a crib. Yeah, right. Not happening. If she is not corralled, she is NOT going down. So she's extra sleepy at night these days.
<![if !vml]>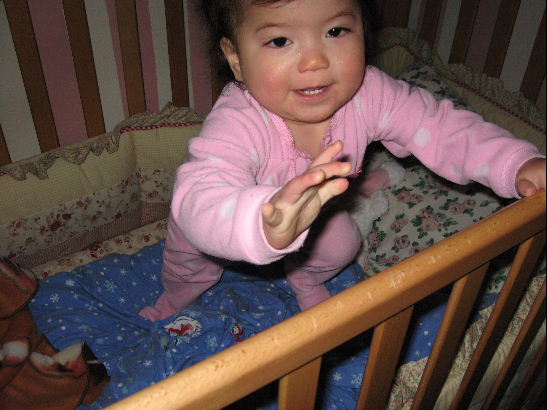 <![endif]>
Good Morning Mom, look at me, I can run in my crib!
With the (finally) arrival of cold weather here in Minneapolis, since my house is so small, I've been searching for things to do with Annabelle that tire her out and are also free of charge. Normal parents take their kids to the zoo and museums, but I'm too cheap, given that her attention span is about 20 minutes. So in the process we've discovered a few unusual play areas.
<![if !supportLists]>+ <![endif]>Seestadts - a wholesale carpet and remnant company in St. Paul. This place has a warehouse of rolled up and piled carpet remnants. Annabelle loves to climb the mountains created from carpet rolls and there is not a sharp object in the place. I wander around pretending to peruse the wares and she has a great time.
<![if !supportLists]>+ <![endif]>The Room & Board outlet warehouse. This warehouse features marked down pieces from this very expensive home furnishings shop. It's got lots of couches for her to climb on and allows me to look for the elusive perfect media center for my newly painted guest/TV room.
<![if !supportLists]>+ <![endif]>IKEA. Annabelle loves the self serve section –wide aisles, boxes to climb…
Speaking of IKEA, it was the site of Annabelle's first (among many to come) bloody nose incident. I turned my back, she scrambled up on a wobbly box and splat! There was a lot of blood coming out her little schnoze. Of course I didn't have a wipe or a tissue, so there I was wiping up a lot of blood with a diaper. Very elegant.
<![if !vml]>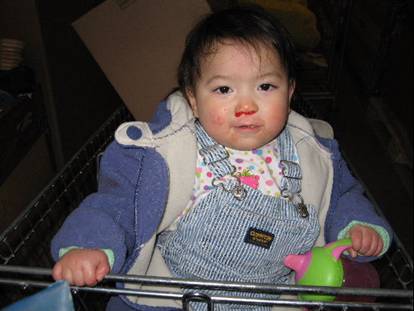 <![endif]>
Annabelle's vocabulary is expanding. Her #1 favorite word is doggie and #2 is book, which she does with a rough approximation of the accompanying sign language. Her love of books just kicked in about a month ago and now, the first request out of her mouth every morning is to read a book.
Dec_Jan 07_files\loves book.avi
<![if !vml]>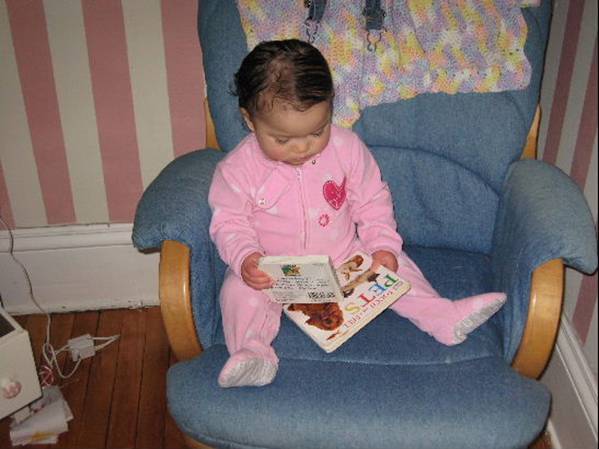 <![endif]>
<![if !vml]>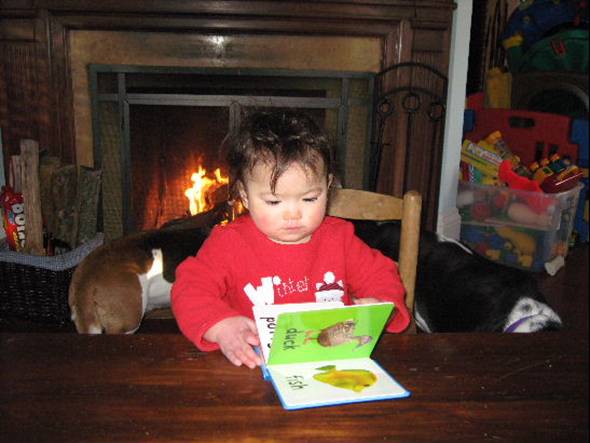 <![endif]>
Stay warm!! (Running is a good way to do it according to Annabelle – see videoJ)
<![if !vml]>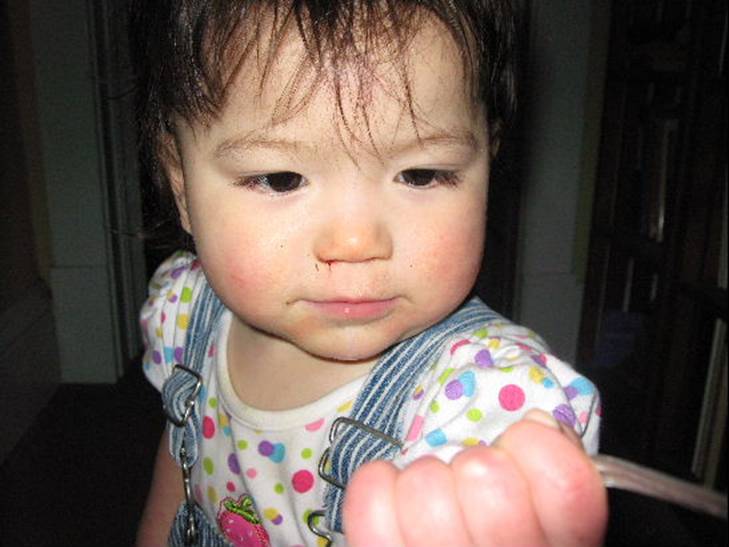 <![endif]>