<![if !vml]>

<![endif]>
Margaret Hilary Mericle
Feb. 1, 1968-March 27, 2006
<![if !vml]>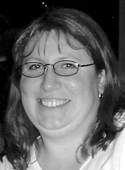 <![endif]>Margaret Mericle of Aston, Pa., beloved daughter of Morris and Eileen Mericle, died suddenly of a pulmonary embolism Monday, March 27. A memorial service will be at 2 p.m. Sunday, April 2, at Ames Unitarian Universalist Fellowship of Ames. Burial will be in the family plot in Toledo.
Margaret was a 1985 graduate of Gilbert High School. She held two undergraduate degrees from the University of Iowa, in German and electrical engineering. She was an electrical engineer for the U.S. Navy and did advanced electrical simulations. She loved her family, her cats, her job and her friends. She brought joy to all of us lucky enough to be a part of her life. We will always remember her optimism, eternal humor, and soft heart, and we believe she is not gone as long as she is remembered.
She is survived by her parents, Morris and Eileen Mericle of Ames; and one sister, Maureen Mericle of Minneapolis.
The family requests no flowers. Memorial gifts may be made to the Ames Animal Shelter or to the Ames Off Leash Dog Park fund.
It's been less than 3 weeks since Margaret, my amazing, wonderful, funny, sweet, generous, younger sister, died. She died suddenly on the cusp of Sunday into Monday. I talked to her only an hour before she died and neither she nor I thought she was very sick. We thought her labored breathing was just an allergic reaction to her new medicine. We didn't know it was a blood clot working its way from her lungs to her heart. Her last words to me were "I'll call you in an hour when I get out – they won't let me use the cell phone in the hospital."
I will never forget the phone call. I will never forget the shock of hearing the words from a nurse, "I'm sorry, your sister just died."
No, this is not possible, I was just talking to her. We're going on a big trip and, her bag is already packed. She's going to be an aunt and she's so excited. No!!. She's only 38. No! I cannot get through the rest of my life without her. No, you must be wrong. You must be wrong. You must be wrong………………Please be wrong. Please God, no.
Over the next few days, I called her cell phone so many times, leaving long messages telling her I knew there had been a clerical error; that I knew she was in the hospital and they had the wrong name on the person who died. Margaret, please call me back because you wouldn't believe how sad everyone is,, but I know it's a mistake so just call me and we'll get it straightened out.
These words came from friend of mine who is an Episcopalian priest:
"It is beyond all imagining how Margaret could not be with you. I can hardly begin to comprehend your grief and sense of loss. I believe that pain and loss at the level you are experiencing can't be talked at or consoled away. How could it be? It is as deep and sacred as prayer, and it belongs to you and God alone."
He is exactly right. I cannot begin to describe my grief. It is so deep. It is so lonely. It is almost beyond the pain of reality, existing somewhere in the grey world of nightmares and shadows.
The same friend described Margaret so accurately:
"I thought the world of your sister. She was utterly without guile and one of the purest souls in the true Gospel sense that I have ever met."
Margaret could find the fun and humor in everything. She had an ever-present sense of humor. We teased each other all the time. She remained sweet and generous her whole life. To outsiders she appeared a bit cynical about love, but inwardly she remained a true romantic. She hated confrontation and she was the appeaser of our family. She loved her cats, her friends, and the idea of being an aunt just sent her over the moon with happiness. In A Grief Observed by C.S. Lewis, he describes God as the "great vivisector" or "Cosmic Sadist." How else could He take my beautiful sister from this world when she was only 38, so happy in her life, and before she even got to meet little Annabelle, whom she loved so much just from photos and a video? How could He?
I love you Sissy and will miss you every day of my life --- Weenie
<![if !vml]>
<![endif]>