I know, I know , it's already the end of the first week in October and some of you have been patiently waiting for me to update this darn site.

Here are my excuses:

1) I've spent the last six weeks doing nothing but suctioning out boogers from Annabelle's nose as she catches every bug that reaches even the exurbs of the Twin Cities

2) I got lost in a timewarp at a used baby supply store called Once Upon a Child. I went in and when I came out I realized I'd lost six weeks of time while hovering over a used Pottery Barn chair.

3) My dog ate my computer. (I know, I know, that excuse only worked when McDuff was alive)

4) I look Annabelle on a hike in the Superior National Forest and she decided she wanted to live in a tree like that girl Julia Butterfly Hill all those years ago. I only just now talked her down.

6) Her birthday party was so elaborate that I spent weeks with the party planners I hired to make the event the social event of the year. I'm sure it will be compared to Capote's Black and White ball in years to come.

On a sadder note, my beloved 16 year old basset, Murphy, who was my first daughter (Margaret always said "Murphy taught you to be a mom") and who spent 16 years at my side left me for the Rainbow Bridge on August 23. The hardest part about making the decision for her is that her spirit was still strong – she didn't want to go. But she couldn't walk much any more and she kept falling off the doggie ramp I bought her to help her get outside. I miss her so much. 2006 continues to be a year of unbelievable loss and sadness. When is it enough?

Annabelle truly continues to be the most amazing child. I sometimes watch her laughing at a ladybug or screaming with happiness as she hangs on her jungle gym and I wonder – if her birthmother could see her now, what would she think? Would she have still made the same decision to let her go? Before I adopted Annabelle, I thought I would be so offended and upset if someday she decided to go find her birthmom. I thought that somehow it would diminish my role in her life if she needed to find that other mom. But now I realize I am going to be fine with that decision if it comes. I got to see her face light up when she went for a ride around the block in her little wagon. I watched her experience pizza for the first time. I know how to make her smile by just singing a funny song to her. And I'm so proud of her for being an amazing baby that now, I'd actually like to share her with her birthmom and say "hey, you did good by this little girl".

Okay, on to documentation. Oh, where to start.

I'll try to go chronologically.

Outdoor time

We spent so much time outside this summer so here are a couple of photos of the setup in my yard….. I have a lot of yardwork to do and Annabelle would just hang out on her playset while I worked. And then we got to draw the admiration of everyone who walked by too (I live on a corner with lots of walkers around).

<![if !vml]>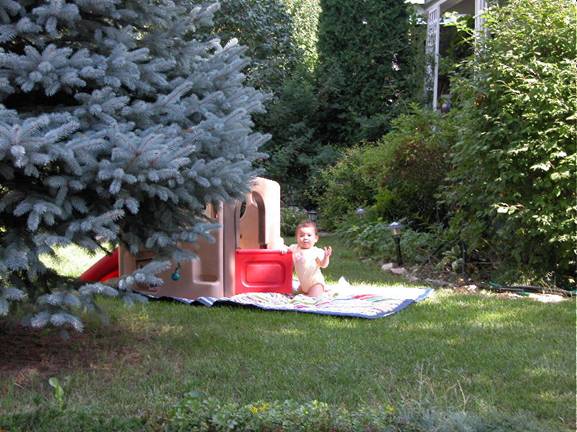 <![endif]>
<![if !vml]>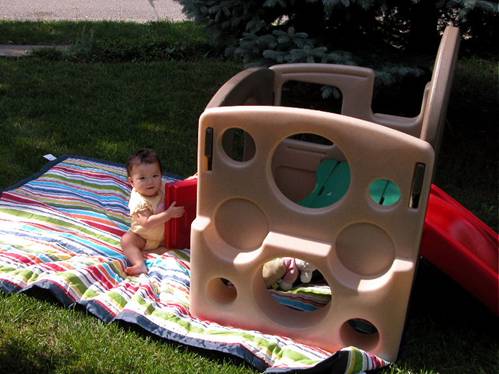 <![endif]>
Murphy
Last photo of Annabelle and Murphy, on the day Murph died.
<![if !vml]>
<![endif]>
Visit fromKokshetau friends
Then we got a great visit from Cindy, Tony and Jadyn Kaplan – the Kaplans were in Kokshetau with me for a couple of weeks. They live in Portland, but both sets of their parents live in South Minneapolis so I will get to see them when the come back for visits. We remarked on how at this point in their lives, Jadyn and Annabelle had lived together longer than they had lived with us. Unfortunately, there was no grand reunion with the two of them running through a field and wrapping each other in a hug (perhaps my hopes were set a bit unrealistically?). But Annabelle did grab a toy from Jadyn somewhat rudely. I take that as a sign of familiarity! Jadyn had his first birthday party and Annabelle insisted that we remind him where his roots are (and it's not Kokshetau) and presented him with a twins ballcap. Unfortunately, I didn't get any photos of J & A together so you'll have to settle for a pic of Annabelle and Cindy and a video of the two kids.
<![if !vml]>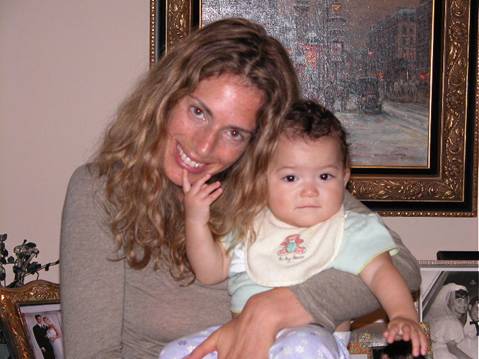 <![endif]>
Sept 06_files\Kaplan Visit Movie Short.mpg
First Word
Annabelle's first word was uh-oh. This is not entirely unexpected with me as her mother. She says uh-oh as I bang her head on the car door getting her into her carseat, she says uh-oh as I drop her breakfast on the floor, she says uh-oh when I drop the stroller on my foot and scream "son of a bitch". Actually, it's pretty funny – I've got a disease called Swearitus Uncontrollus which I inherited from my father, who (to paraphrase the Christmas Story dialogue) worked in swear words as an artist works in clay. So in reality, although it would have been nice if her first word was mama or duck or something sweet, it really could have been a hell of a lot worse - uh-oh is pretty innocuous considering the possibilities.
(by the way, I apologize for the crackling noise on the videos – my camera has clearly been stretched to the limit and something has snapped in the video functionality)
A Gated Community
I've set up a gated play zone (It's important to keep the riff raff out so this is an exclusive play zone) on the three season porch that provides endless possibilities for fun.
<![if !vml]>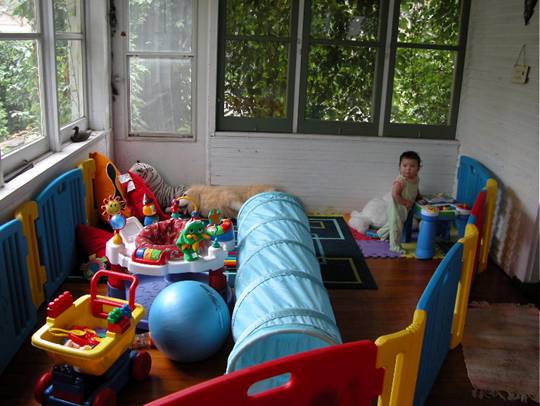 <![endif]>
Here are some of the activities to be had in this zone o' fun.
Dancing
Spelunking
1st Birthday!!!
Hard to believe my little girl is already a year old, but sure enough, on September 27 she turned one. Anyway, I did plan a birthday party for her. But contrary to what I implied in my list of excuses, two days out, here was my birthday party plan: 1) champagne cocktails, 2) funny hats
Very detailed, huh?
Party planner extrodinaire I am not. Plus, everyone I invited with kids couldn't make it. So it was "family" – in the sense that the haugen family are family which is every sense except actual DNA. Plus, Annabelle's godfather Wally (not that she's ever going to get actually baptized since the Episcopalian church doesn't seem to actually want to help me with that, Grrrrr) flew in from SoCal. So it was an intimate gathering which is all my tiny living room allows anyway!
<![if !vml]>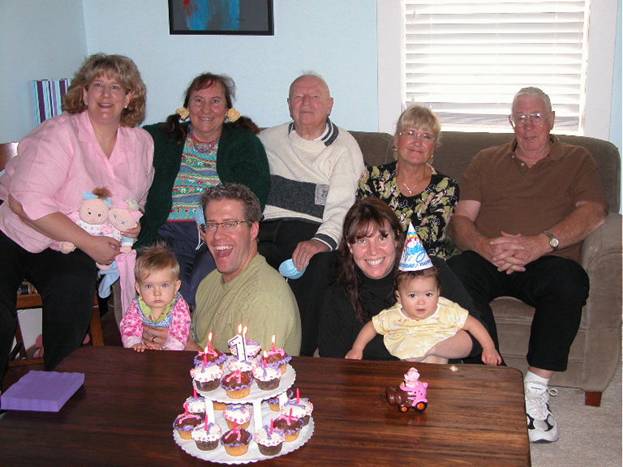 <![endif]>
The best birthday present (If only she is this easily satisfied in the future….)
<![if !vml]>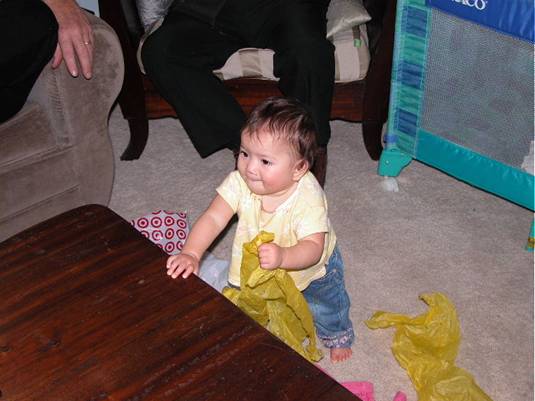 <![endif]>
And the girls enjoyed their first cupcakes too!
<![if !vml]>
<![endif]>
<![if !vml]>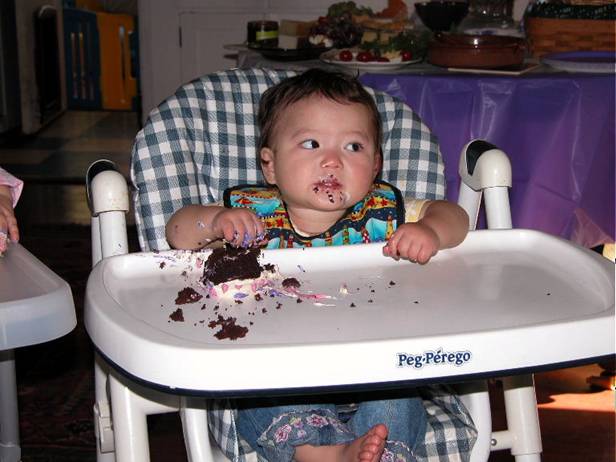 <![endif]>
The evening of the party, Lisa & Stewart hosted a dinner party for us so that in addition to Annabelle's birthday, we could also remember Margaret since she and Annabelle share that date of the 27th. Margaret died on the 27th of March so she will always be remembered on Annabelle's birthday. Subtract 6 months from Annabelle's age and that will be how long Marg has been gone. Sometimes I do that math. When Annabelle turns 10, Marg will have been gone for 9.5 years, when Annabelle turns 25, Marg will have been gone for 24.5 years. And I can't imagine that. But then I couldn't imagine surviving six months without my best friend either.
Anyway, Lisa wanted to host a beautiful dinner party so we could talk about Margaret and remember her. So that's what we did. But first, we had some fun with the girls. Every Sunday night, we feed the girls together – sort of a "family dinner" thing. So we fed the girls and then for the first time, we stuck them in the bath together. Oh My God, talk about double the cuteness. Truly, I could have watched them splash around in the tub for the whole night, they were double adorableness.
<![if !vml]>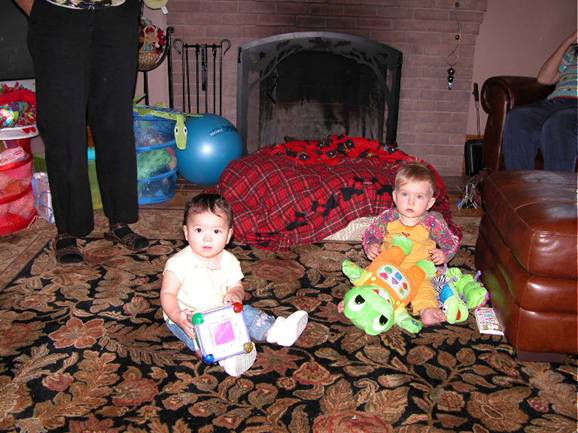 <![endif]>
<![if !vml]>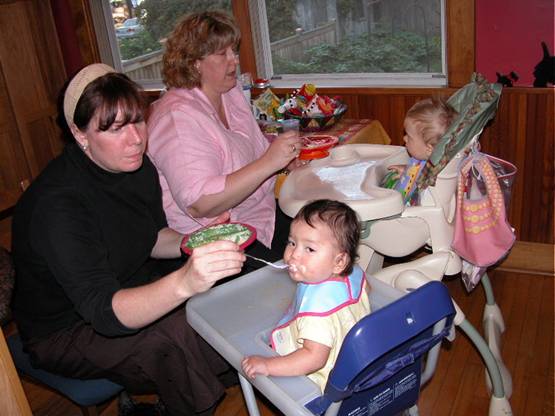 <![endif]>
<![if !vml]>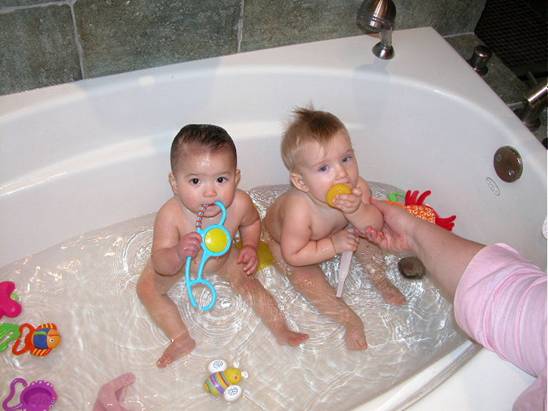 <![endif]>
<![if !vml]>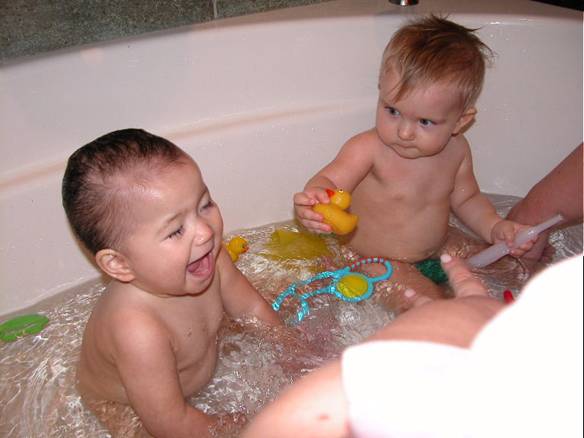 <![endif]>
<![if !vml]>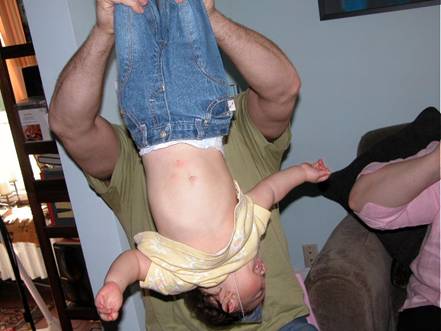 <![endif]>
Okay, That was September. I really will try to be better about October entry. After all, Annabelle can't keep her wonderful fan base guessing about her Halloween costume!!