Clearly the Kid is a Genius



First an update on the party times had by all last night.

I walked over to the cottage and picked up Tony and Cindy.

Unfortunately, Julie's daughter Caitlin wouldn't settle down so Julie decided to skip dinner (a preview of my life to come as a single mom).

We walked to the Rainbow Room restaurant and discovered that even in Kokshetau, on a Friday night one needs a reservation.

No room at the Inn.

Hit the road jack.

Don't let the door slam you in the ass on the way out.

All kinds of non-love was happening.

Then, we pulled out our ace card: Cindy darling speaks Russian.

This knocks everyone's socks off each time.

So they decided we were worthy after all and let us sit (provided we agreed to be out of there in an hour).

It was great to get out of our respective homes, drink a beer and chat with grownups.

<![if !vml]>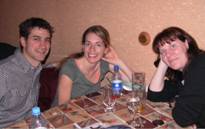 <![endif]>
Okay, on to today's visit. Well, it's pretty amazing to find out how smart Annabelle is. What's That...oh, you're asking how I know? Well, here's how I know. Today, she was really starting to verbalize, which she hasn't done much of. She was screeching in joy at being naked when I bent my head down, and I swear I heard her say "E=MC2" I know, I know, that sounds unbelievable but that's what is sure sounded like. Then a little later on she screeched out something that sounded surprisingly like "ontological argument". Pretty exciting. Of course, I didn't have the heart to tell her that E=MC2 has already been theorized because I thought it was a pretty big leap for a six month old and I didn't want to discourage her.
<![if !vml]>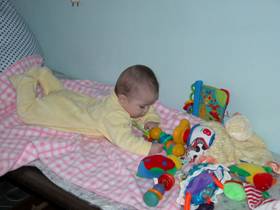 <![endif]>
at that point, I sat her down face to face and told her that, seeing how bright she was, we had to make some decisions. Big life decisions. Key points to cover today: Harvard vs. Yale, creamy vs. chunky, beer vs. wine and perhaps most key, packers vs. Vikings…. Much to my dismay, at the latter choice, right after I said Packers, she burped loudly, which is practically the national cheer for the packers so I could be in for a world of conflict come football season. It goes without saying that the choice does cast some doubt on my earlier empirical evidence that she is overly bright. (is Mulligan in the room?)
<![if !vml]>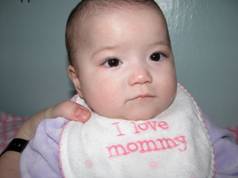 <![endif]>
Today my genius kid also did a lot of rolling over and tummy time in addition to the now expected high flying swoops. I wish I could get a picture of the grin on her face during flying time, but I am alone in the room so I can't fly her and get a picture at the same time. (This is also the reason for the repetitive angles of the pictures each day. Grab baby, hold out camera…. Same shot, different clothes!)
<![if !vml]>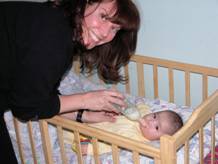 <![endif]>
It's been raining for two days and while I was in the room with Annabelle, the rain briefly turned to snow, causing me, Ms. "but I brought Capri pants only", to get a bit worried I'd misjudged the semi-siberian spring weather, but then it turned back to rain. It is windy and cold today though and here I am, without a coat. (See Yesterday's journal title – you can use it again here.)
Remember the Bay City rollers song S*A*T*U*R*D*A*Y Night….? (Ah, the old pop classics I know and love.) Well, have a fine one!