<![if !vml]>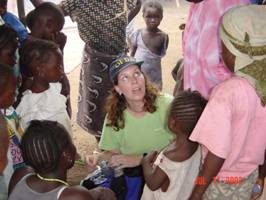 <![endif]>
I have long planned that adoption would be the way I built my family. In my 20's, I spent a lot of time in Asia and Africa providing basic humanitarian aid to people suffering from civil wars and natural disasters. The first time I saw a child die from starvation (click here for pictures from some feeding centres around the world), I couldn't believe my heart hadn't physically been ripped out of my chest, I felt so much pain. It was about then that I knew adoption was the only way I could choose to have children.

<![if !vml]>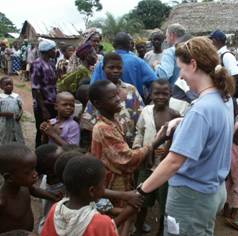 <![endif]>
After spending most of my 30's in places where it would have been difficult to care for a child (
Kosovo
,
Albania
,
Sierra Leone
,
Iraq
, LA (a country of its own!) I finally moved to
Minneapolis
and did something no one expected. I settled down. I bought a house, stayed in one job for multiple years and went to no war zones. I finally knew it was time!
In March of 2005 I began researching adoption. At first I thought I would go to Russia or Ethiopia. Ethiopia was interesting because I had spent so much time there. Russia because I had heard the process was friendly to single moms.
When settling on a country, I couldn't find a local agency that worked in Ethopia that had a good reputation. So I decided to go forward with Russia and signed on with Adoption Miracle International, a Minnesota-based agency.
As I progressed in my research, however, I realized the Russian orphanages didn't always provide the care that I wanted my child to have in his/her early life. Plus, the process was getting more and more volatile. I'd had also been learning more about Kazakhstan's babyhouse system and realized it has the reputation for providing some of the best care in the world.
As I settled on Kaz, I also realized that there was one agency that stood out in Kaz. World Partners Adoption, based in Georgia is the #1 agency in Kaz.
So in May I switched to WPA and Adoption Miracle graciously continued as my homestudy agency.
And so began the journey.
I won't deny it's been frustrating. It seems as though 2005 was a year of change in the Kaz process and I got caught right in the middle of it. Just when I got everything finalized for my dossier, a whole host of new forms and requirements came out, adding two months of work. The prices went up mid-way through the process which was a blow.
I didn't have a preference for ethnicity but I did have to decide gender. I've read somewhere, on someone else's site that worldwide, 80% of adoptive parents choose girls which I found interesting and surprising. Certainly, in Kaz, there are more boys available than girls. I initially thought I would choose a boy – I'm pretty tomboyish and I love little boys. But then I thought about my life as a single mom and wondered if I would have enough male influences for him, given that most of my great male friends live places other than Minneapolis. So I decided to go with a little girl, despite the longer wait. I haven't settled on a name yet. For some reason this is hanging me up. The names I love most are very popular right now and I don't want something very popular. So every week, my list changes.
So here I sit in February 2006, almost a year after beginning the process. I'm trying hard not to anticipate when my referral would come. If I was exactly on time, it would have come on Feb 1 so it could come any time. People who sent their dossier in when I did already have their referrals so I have to believe mine will come soon.
And so the wait continues…..
Thanks for journeying with me!