The Nursery or as I prefer to think of it – my own personal Everest



Getting the nursery ready was painful. My 1903 house only has 3 bedrooms and one of them was a small little room the Victorians called a crib room. Until November 2005, the so-called crib room was my Office/Guest Room. So, when deciding which room to make the nursery, I decided to go with the obvious one. This caused great turmoil in my little house because I had nowhere for the Office/Guest Room stuff to go. For several weeks I couldn't get through my own hallway with the desk, guest bed, and piles of books taking up the passage. The dogs thought I had constructed an elaborate alpine maze just for them.
Once I got everything out into the hallway I had to repaint the room. The Office/Guest Room had been a color I think of as Mushroom Grey. I liked it but it wasn't a baby color. So one weekend, I woke up at 2:00 am on Saturday and decided it was time to paint the nursery. I went to the 24 hour Home Depot and in the haze of 3:00 am thinking, I bought a gallon of something called Pink Horizons. My story is "it looked much lighter on the paint chip".
I also decided to try some faux painting techniques that I had seen in a magazine. But not content with just one faux painting technique, I decided to combine three. Faux sponge swirling stuff on the top, stripes on the bottom and free hand painted flowers randomly placed on the wall.
May I remind you again it was 3:00 am?
In the 48 hours of the weekend, I think I slept about 3 hours. Dogs were fed but just barely. I can't remember if I ate.
Halfway through I stepped back and only then realized that the room looked as though someone had puked Pepto Bismal on the walls. I was horrified. I quickly called my friend Lisa who is supposed to pre-approve any color decisions I make – precisely to avoid this kind of debacle. (Do you get the sense this has happened before?) She sighed, asked me why I hadn't consulted her first and came over. She hid her shock well.
She suggested lightening up the Pepto Bismal Explosion with mixing it with a little white. That was a really good idea. Unfortunately, I was halfway through and wasn't going to redo the first part… I just couldn't. I was exhausted.
<![if !vml]>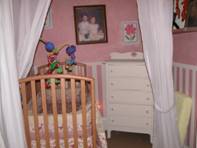 <![endif]>
So you may notice that the side of the room with the crib – is much more Pepto Bismal-ly than the side of the room with the glider.
<![if !vml]>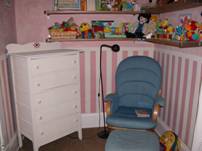 <![endif]>
Many thanks to my friends Lana and Rachel for essentially furnishing this room for me with their donations. Saved me a bundle and looks great. Thanks ladies!
I just hope my child isn't scarred for life looking at such hideous color and hopefully she won't be as color challenged as her mother or she's in for a life of interior decorating pain.