Day 2

Most of yesterday I was a little worried because Annabelle hadn't well…. you know. Come on you know what I'm talking about. She hadn't done any nasty diaper action. And I was worried. Maybe the stress of the transition was greater than she showed. Maybe I shouldn't have tried to feed her baby food baby carrots. Maybe she would stop up like a plug and explode.

Last night she was clearly uncomfortable and couldn't sleep easily (that's an understatement). This morning she woke up at 5am again uncomfortable and nothing to show for it. Anyway, thanks to Lana, Shawna, and a couple of others I was offered up a number of suggestions. I went with what was at hand and gave Annabelle some fruit juice. Well, behold a couple of hours later and half her body weight was now in the content of her diapers. She seemed much happier. I was undeniably grossed out but relieved.

Today we had our first outing. I had to go change money and buy bottled water. So I bundled her up. Keep in mind, it's about 75 degrees today. (finally! Getting warmer) But as I have mentioned, the Kazakhs keep their kids in snowsuits well through the summer. So I had to bundle her as if it was sub-zero. I didn't have a snow suit so I went with layers. Here she is dressed for outing #1.

<![if !vml]>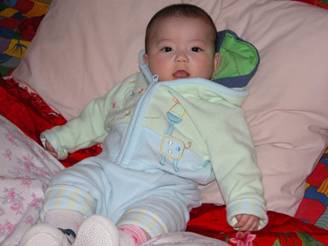 <![endif]>
I went out somewhat camouflaged. The agency people are worried about the negative view that many people in Kokshetau have towards international adoption. It's kind of crazy, given that no one wants these babies, but one or two instances of Americans abusing their Russian adoptive kids has filtered throughout Eastern Europe/Russian/Central Asia mainly by the Russian equivalent of the National Enquirer. Tabloids blow one incident up and make it sound as though almost every adopted kid gets abused by his American parents. Since we are so near Russia, a lot of the attitudes here are shaped by what is on Russian TV. So, in venturing forth today, I didn't want to call attention to the fact that I am an American. Fortunately, Annabelle looks relatively like me so that doesn't call us out. Anyway, the extent of my disguise? Leaving the baby bjorn at home. They don't use carriers here much. So I figured I would blend in if I carried Annabelle in my arms as I ran my errands. It's funny how light she seemed from playtime and short visits. Let me tell you now, that is an illusion. The kid is made of lead with iron casing to boot. Today was not the day to buy the bottled water (big 5 litre jugs, 3 of them), but I did. By the time I climbed back up the 5 flights of stairs to my apartment, she was practically hanging upside down as I lumbered with the 3 jugs of water. But all was successful with my subterfuge, no one screamed at me.
<![if !vml]>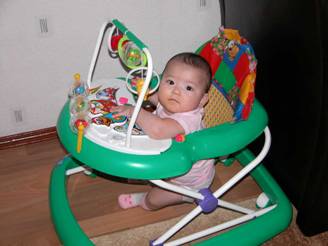 <![endif]>
Tonight I ventured out again with Annabelle as the two of us were invited over to have dinner with the Brookes'. Even after only two days I miss talking to adults so I eagerly agreed. Annabelle was well behaved and this time I did use the bjorn which was awesome.
<![if !vml]>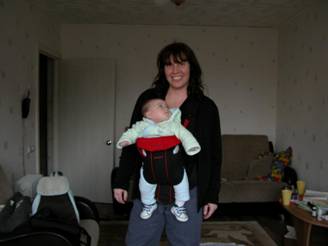 <![endif]>
The brookes' had cake and champagne for me to celebrate Annabelle's adoption! It was so nice. Then they ate a meat pie of some sort and I had Greek salad. And after we tasted the champagne, which was really sweet, we all switched to beer.
New Observation on Schedule (N=2)
Last night
8:00 pm go to sleep
9:30 pm Wake up inconsolable, gets bottle
9:30 – 12:00 am traumatize mom by screaming and wailing
This morning
5:00 am Wake up cranky, pissed off and what the hell are you looking at?
5:05 am where's my damn bottle and could you do something about this diaper?
5:10 am I said NOOOOOWWWWWWW
5:35 am Back to sleep
7:08 am Honey I'm HOOOMMEEE
7:09 am NOOOOOWWWWW
8:00 am lose half of body weight with a massive nasty incident
8:30 – 10:00 am Nap
10:30 – 11:15 Gets carried around like a sack of potatoes by Mom
11:30 am Lunch Part One – baby food carrots
11:45 am Lunch Part Two - Half a bottle
1:15 pm Why are you touching me, leave me alone, no don't leave me alone, wAAAAAhHHH
1:20 pm Zonked out in nap
4:00 pm wake up happy, have bottle
5:45 pm walk over to cottage
7:00 pm Bottle
7:30 pm return home
8:00 pm why do you think I go to bed at 8pm, no way! Crying, crying, crying
8:49 pm Still crying
8:55 pm Falls asleep in my arms
9:00 pm transfer to bed
9:04 pm crying starts again
9:33 pm finally settles down
9:34 pm Mickey has a drink
The rose Tinted glasses are off. This was a hard day. The worst part is when I just don't know what is wrong with her so I can't solve the problem. Give me an identified problem, I'll solve it. It's the not knowing what's wrong (diaper: check, bottle: check) that I can't stand. It's so hard to see her crying her little lungs out and not know how to help. So I pick her up and carry her around, that's my answer to everything. Sometimes it works, sometimes it doesn't.
Alright, I'm going back to my drink!