All Current Adoptions in Kokshetau are complete!



Well, not much happened on my front today aside from the ever present adorableness of my little girl.

Every day I feel more tug on my heart as I get to know her moods, her expressions, and to distinguish her cries, yelps and murmurs. Even sweeter is the fact that I bring this huge smile to her face when I just look over at her or play with her. She's so happy to have her Mom around. I tell you it's been a long time since someone has grinned that way just by my walking in the room!

Very gratifying.

Today was the big day for the Brookes'. At 4:45 pm Allison and Andy became the official parents of Annelise. They had a pretty rough court session too, like I did. For all those who come after us in Kokshetau, be prepared for many questions about the decision to adopt instead of having biological children unless you have proof of infertility. They questioned me about it a lot, and A&A got the same vein of questioning. Even Inna was very surprised at the direction the questioning took so it may be a sea change.

Allison called me at 5:30 and said one word - "cocktails?" so I loaded up the kid in the kid carrier and walked over to their place. We had cocktails and bruschetta and the girls played adorably. I forgot my camera so I'll get copies of the wonderful pictures of the girls – they held hands for a long time. It was so precious! (Lisa, I can't wait to get Annabelle and Elizabeth together, hopefully they will be just as cute) Then we all went for a walk since it's a beautiful day but the forecast has it getting quite cold again (in the 30s and 40s) over the next few days. It's going to be nice to have both babies at home where we can visit each other every day. Should provide some nice variation to the monotony. Andy leaves on Saturday to return home so for the rest of my time here it will be just Allison and I.

No good pics of today but here's a few to tide you over.

<![if !vml]>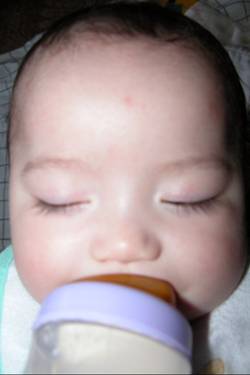 <![endif]>
Not a great photo but I just wanted to show you Annabelle's absolutely insane eyelashes. She is the envy of every woman that meets here. They so long and beautiful. You can click on the photo for a larger version.
<![if !vml]>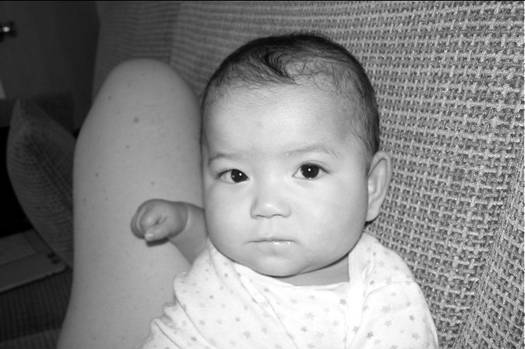 <![endif]>
<![if !vml]>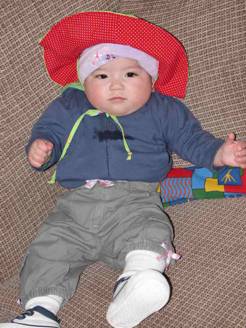 <![endif]>
New Going out outfit. Her sunhat kinds of gives her a jaunty, sombrero look, doncha think? And the baby cargo pants… simply too cute for words.