Well, today the routine was different. I went over to the cottage at about 10:30, after Belly woke up from her nap. It was a cold, windy day here in

Kokshetau

so I wrapped the pumpkin belly up like a burrito in several layers. It had rained hard during the night so the streets were filled with big puddles and mini-lakes to skirt as I made my way through the streets of

Kokshetau

.

Annabelle was clearly a little confused by the wind.

She loves it when I blow a puff of air in her face, but this was sustained, cold wind and she didn't like it too much at first.

She kept burying her little face in my neck while she was in the

bjorn

.

It was too cold for a walk as Allison and I had planned to do so we just brought the heater down from upstairs and let the girls play on the blanket in the living room. After lunch, we put the girls down for naps and did what anyone in their right mind would do at lunch in Kokshetau. We had some vodka. And then we settled down to a chick flick (Bridget Jones' Diary) on the computer. It was a nice afternoon and the time really does fly when vodka is imbibed at lunch. Allison brought about 6 jars of peanut butter (I'd been rationing my single jar) and so we had PB&J sandwiches for lunch and Pringles for dessert. Pringles and Vodka cocktails… Yum!

Annabelle was a dream visitor. She stuck to her schedule, had no meltdowns, and was very well behaved. Lubya, the factotum of the cottage was around cleaning for the early part of the visit. Lubya enjoyed playing with the girls.

<![if !vml]>
<![endif]>
She was very impressed by Annelise's beginning-to-take-steps skills. My girl… well, here was what happened when Lubya tried to walk with Annabelle.
Day 32_files\Lubya tries to teach Annabelle to walk.MOV
(Tony & Cindy, if you are reading this – Lubya says hi and wonders about Jadyn's ka-ka. And Julie VB – Lubya misses Katelyn and would like to know if you are settling in okay.)
And here is another little movie with Annabelle doing her cute balancing act with her arms out. At last I can get a picture since someone else is holding her!
Day 32_files\Day32 Annabelle Balancing.MOV
Finally, here are a few more pics of the girls.
<![if !vml]>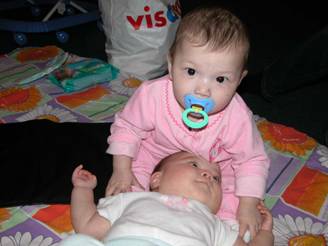 <![endif]>
<![if !vml]>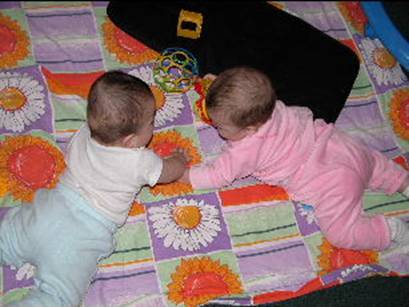 <![endif]>
<![if !vml]>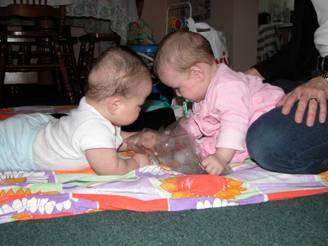 <![endif]>
In the picture above, with all the expensive toys that Allison and I lugged across the world, the girls settled on their favorite toy as being… a plastic bag. *sigh* (Don't worry out there concerned parents of America, we threw it away afterwards.)