First, I have to send birthday greetings to my most ancient of doggies, Murphy who turns 15 today.

Happy birthday to my first daughter.

Arf

arf

,

grrrr

, woof,

arf

.

Oh, and

grrrr

,

grrrr

, woof,

arf

.

And no, you can't have the car to go out for a happy meal.

Get Grandpa and grandma to "drop" something tasty for you.

Allison has had this idea to make lasagna for several days now. I am not much of a cook but it sounded like a good idea to me. So this morning we went for a long walk and along the way picked up some stuff to put in the veggie lasagna. Ixnay on the pinachsay since there is no spinach here. We found canned mushrooms and black olives and we also found Barilla brand spaghetti sauce so we figured that would work.

What went wrong? Technically, nothing. It had the right form. I think it was the cheese. We used cottage cheese in place of ricotta and we did have something called "mozzarella" – but it just tasted off. We each took a few bites and then almost synchronized our reach for the Pringles can. Ah, well, it was an ambitious attempt and we decided 1) it tasted better after vodka cocktails and 2) it now justified our continued existence on Pringles and PB&J sandwiches. After all, we tried to eat better… !

Today's matinee feature film was Stuck on You. Normally I love the farrelly brother movies and I love Greg Kinnear but this one, although sweet, just wasn't very funny. Allison crocheted through it so that tells you it wasn't very gripping. But hey, beggars can't be choosers and besides, it too had more appeal after the vodka cocktails.

Another great day with annabelly. She is just such a dream of a kid. She slept soundly during her nap and played happily when awake. It's 8:17pm and she went down right at 8:00 pm sharp.

Oh, and I have been sleeping on the couch and that's going very well. I can't hear her early morning screeches in the other room so I'm sleeping right until 7am. I've had to wake her up both mornings at 7am too so I think she's sleeping better being in the bedroom alone. I can't wait to get home where she can be in her own room and me in mine.

Speaking of getting home, I signed Annabelle up for an adoption study at the University of Minnesota's international Adoption clinic. It follows children for six months after an adoption and you get all kinds of extra tests and evaluations (beyond just well baby stuff) free because it's a research project. I figured it would give me peace of mind to get her checked out thoroughly (because of the ebola and such) when we get home. The first visit is almost 6 hours long though so that should be traumatic!

No great pictures today since I forgot my camera when I went to the cottage today but here are just a couple from this evening.

<![if !vml]>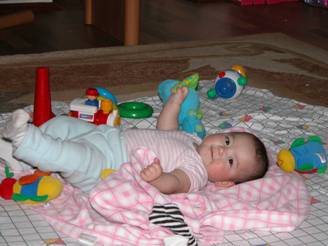 <![endif]>
<![if !vml]>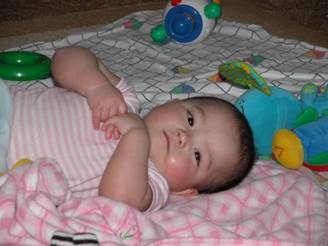 <![endif]>
Day 33_files\Pig in a Blanket.MOV (click for quicktime movie)
***************************************
And finally, it was 8 weeks ago tonight that Margaret left. It was 3 months ago today that my McDuff-Duff also left me. Margaret was so wonderful and kind and sad when McDuff died. I was desolate. She wrote this to me a few weeks later:
| | |
| --- | --- |
| From: | "Margaret Mericle" <mhm.200x@netzero.net> |
| To: | bassetpal@aol.com |
| Subject: | you and your Duffster |
| Date: | Sat, 4 Mar 2006 01:03:18 -0500 |
I miss calling you and having you scream, "no, McDuff!!!"
I miss thinking about the Duffster happily trotting through life, as though it were so easy--once one has found one's human soulmate (you).
I miss thinking about how Duffy was so evil, yet never ever harassed any of the kitties, even when there were 4 of them, and they were nocturnal, and Duffy needed his sleep in order to levitate the next day.
I miss thinking of you and McDuff, such a great team of dysfunctionals, the pair of you.
I miss thinking of Murphy lording it over Duffy, because she had an I.Q. of 1, and he had an I.Q. of "idiot," but with such personality, that they were pretty evenly matched. I miss the tussle.
I miss the last time I saw all of you together, you, Murphy, McDuff, and Morrisey, at Christmas, because you were all together, and such a wonderful life it was, and what a wonderful Mom you are to a lost lot, who otherwise would have had no hope.
I miss you Sis Sis. Remember to let McDuff hump your leg once in awhile!
<![if !vml]>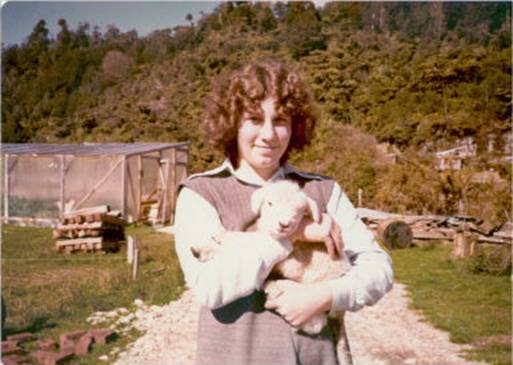 <![endif]>
<![if !vml]>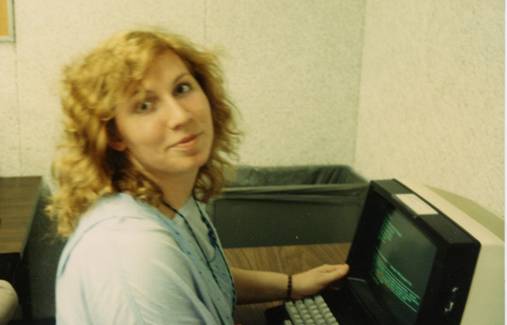 <![endif]>
<![if !vml]>
<![endif]>