Completely crappy weather day, raining hard, chilly, wind a

blowin

'.
But despite that I trekked over to the cottage so at least Allison and I could be stuck together indoors.
Today it was Annelise that was polite and well behaved while Annabelle was irritable and difficult to get down for naps. I kind of wonder if she's getting a little sick – she sneezed frequently throughout the day. And she's tugging at her left ear so I wonder if she's getting an ear infection – oh, I hope not. That would not make my upcoming travel (yippee!) easier.
It is the countdown to leaving Kokshetau. I depart on Sunday, the 28th for Almaty so that's only 5 days left, thank goodness. I will have been here 39 days when I finally leave. Then I am in Almaty doing paperwork/embassy visits/passport stuff for 4 days and leave in the middle of the night on June 3rd.
To get from Kokshetau to Almaty involves a 3 hour plane flight on a Russian made Yak 40. I haven't seen the plane yet since I arrived via Astana and a nice Boeing 727, but from what I understand, it's a piece of shit plane that is terribly uncomfortable and probably not all that safe. Well, hopefully it'll hold together for yet another flight. I have a relatively moderate fear of flying - particularly flying in old as crap planes - stemming from my years in Africa and actually crashing in said old as crap planes. Ah well, I'll try and focus on the happiness at leaving Kokshetau and not focus on the method of departure.
Today's movie was the first half of "Anne of Green Gables", one of my all time favorite movies and it turns out Allison's too. Marg and I had an annual chick fest marathon where we would make popcorn, make fru-fru drinks and watch Anne of Green Gables (the original and the sequel), and the BBC Pride and Prejudice. All in all about 12 hours of back to back restrained romance where there are only 2 kisses in all 12 hours, one at 6 hours (when Anne finally kisses Gilbert) and the kiss between Elizabeth and Darcy at the end of P&P.
Anyway, our only excitement today was hearing that another single woman will be staying at the cottage tonight. As far as we can tell, she is only staying the one night, which is confusing. We know there are no babies to adopt here in Kokshetau. But if she was going to Schuchinsk wouldn't she be staying longer? Anyway, just the prospect of meeting another person is very exciting and we passed a good hour chatting about the various possibilities of who, why, what, where. Oh, how completely sad are we?
And even more sad news is I didn't take a single pic of Annabelle today. She was so fussy and out of sorts and I was fussy and out of sorts so it just didn't happen. So I'll just stick in some photos from previous days that I got from the Brookes'. Bad Mama, Bad Mama!
Click on any of these for a bigger view
<![if !vml]>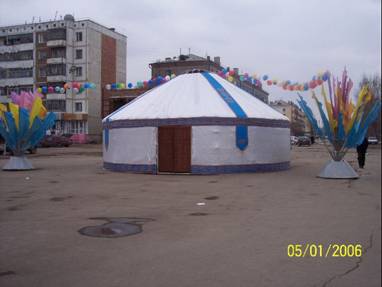 <![endif]>
A Yurt on May Day
<![if !vml]>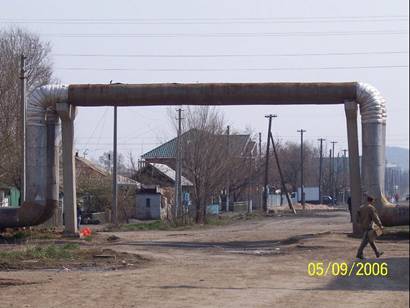 <![endif]>
Typical soviet era piping system, this is part of the central heating system in town. (The one that goes off May 1 even if there is snow on the ground)
<![if !vml]>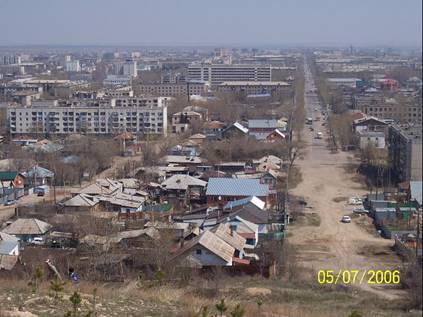 <![endif]>
Kokshetau City view
<![if !vml]>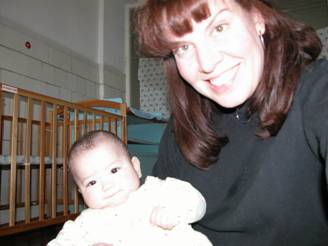 <![endif]>
<![if !vml]>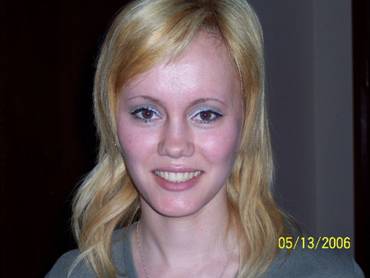 <![endif]>
Rada our translator
<![if !vml]>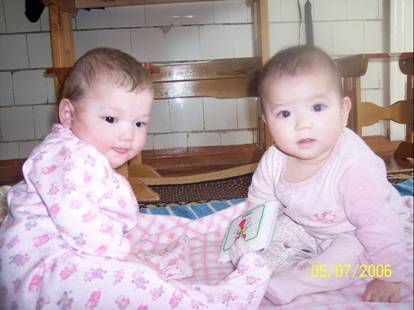 <![endif]>
The girls