Day two – Almaty still rocks.

The more I see of the city, the more I like it. It's got SO much green space, it's amazing. Parks everywhere.

Flowers in bloom like crazy (there are rose gardens all around.) People out walking in with their babies in strollers, it's just great after the lockdown of Kokshetau.

Today was a series of firsts. First stroller ride for Annabelle. First time Mom tries to eat at a restaurant with Annbelle. First souvenir shopping expedition…. But let me start at the beginning.

When I arrived two days ago, there was a stroller in the apartment and I was really excited to try it out. Sasha said that he was supposed to take it with him after dropping me off, but I convinced him to let me use it for a day. I didn't get a chance to yesterday so today, I hauled it out this morning to try it out. She loved it. And I loved it. So much easier than the Bjorn for long walks, especially when it's warm outside! I can't wait to get back to my most excellent stroller at home, given to me by the Target.com Merchants and go for long walks around Lake Calhoun this summer.

<![if !vml]>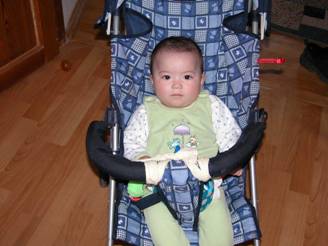 <![endif]>
I got several emails from people telling me I must try Govinda's a vegetarian Indian restaurant here in Almaty so that's what I did for lunch today on my way to the Tsum store. I wasn't sure how Annabelle would do, but I was absolutely desperate for some good vegetarian food so I decided to chance it. The food was great, but Annabelle only did so-so as a lunch companion. She got very antsy when I was paying too much attention to the food and not enough to her. I pulled her stroller up to the table and would alternate bites of paratha bread, aloo gobi, or samosa with pokes and giggles at her. Which meant lunch took a very long time. Fortunately, she didn't scream or anything dramatic but she would start to cry if I didn't time my attention right!
After lunch, I went to the Tsum store with the thought of buying a few souvenirs. But fate and my squeamish constitution were against me. I went up to the 3rd floor where all the souvenir shops were. I had no tenge left so I needed to exchange money and there are exchange booths on every floor of the Tsum. Well I went to the one on the 3rd floor and it was closed. So I went back down to the 2nd floor and it was also closed. So I went all the back to the ground floor (this is lugging Annabelle the whole way of course) and the guy was just locking up the place. What, did I pick the one 10 minute period when they all take their lunch break? Have they never heard of staggered breaks?
Well, I decided that I would go back up to the 3rd floor and at least look around and get an idea if there was anything worth buying. The Tsum is like the one in Kokshetau, made up of lots of individual kiosks. Well, I went to the first kiosk and started looking at the felt yurts, the Kazakh pointy slippers and the skinned wolf rug with head still attached. Yes, for some reason, they sell these poor wolf skins with stuffed heads. Well, as you might guess from the PETA-supporting vegetarian, the whole fur thing is extremely disturbing to me in any event. It's just disgusting to think of what the poor creatures suffered so someone can wear them (or walk on them). So I left that stall quickly and went to the next and the next and they all had the wolf skins, as well as tons of fur items. In each kiosk, I got more and more upset. Until I finally just decided that it was repulsive to spend money in a place that sold these items and what money? Since I had none anyway. And Annabelle was cranky because it was nap time, so I just left, empty handed. Sasha couldn't believe it when I walked out with nothing.
I still needed money though so on the way home, we stopped at the Ramstore to exchange. And wouldn't you know, the exchange place was closed!! I just had to shake my head and think, it wasn't my day for shopping.
In the afternoon, after Annabelle woke up from her nap, she realized that there was a mirror in her room, or I should say, she realized she had a playmate who was awfully cute and reached for her but never seemed to touch her. She screamed with delight at this new creature and I must say, I enjoyed seeing two of her!
<![if !vml]>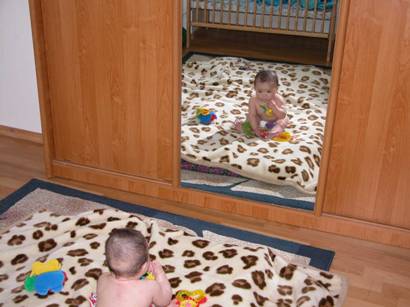 <![endif]>