Alright, I'm just going to get the true confession out at the front.

Last week was busy at work.

And I was working late(r) most nights so I had to rush to pick up Annabelle from daycare before the 6:30 closing.

Well, Thursday, everything went as planned in my head.

I drove home, chatting the whole way.

She's usually quite silent in the car so I wasn't surprised that she didn't "bah, bah, bah" on the way home.

So you can imagine my horror when I arrived at home and went to take her out of the carseat and realize she wasn't in the car.

I had forgotten my kid at daycare!!

OhMYGod.

I'm the world's worst mother.

I had obviously run through the scenario in my head, but in the rush out of work, I had neglected the core element of the plan - The baby.

Well, obviously I rushed back downtown, calling the daycare as I drove "Sorry, I was held up at work, I'll be right there…." Well, what was I going to tell them? The truth? Oh please. They'd probably never give her back to me. Poor baby with a mom like me.

My friend Sandra threw me a welcome home party the middle of this month and it was a great time and chance to introduce the neighbors to the new brat on the street.

<![if !vml]>
<![endif]>
Annabelle playing it cool while the grownups chatter
<![if !vml]>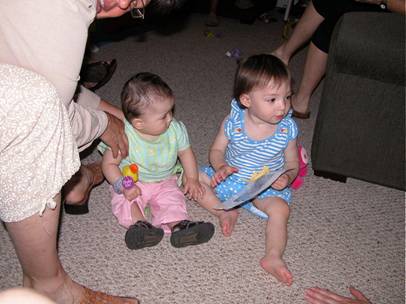 <![endif]>
Annabelle and her "big" 1.5 year old friend Naomi, who took care of her all afternoon!
Aside from the fact that I apparently am destined to abandon her to the elements, it's been great! I can barely even list all the things she's doing these days. She's fully up on hands and knees and can crawl one out of every four tries. She scoots along at the speed of sound and that's pretty funny to watch.
June 30_files\Creeping Part I.MOV
June 30_files\Creeping Part II.MOV
Her speech has progressed from screeching to distinct "words". I swear she said "hi" to me the other day. You can check out the movie and see if you agree. It's at the very start of the movie – her first word.
Today she sat up, all by herself. And she can now feed herself by picking up food and getting it to her mouth.
It's simply amazing how much has happened in the month we've been home.
I also continue to be impressed by how she is so open to new experiences. Two weeks ago, Sandra, and I walked for several miles around Lake Calhoun and then I decided to introduce Annabelle to the lake – her first water experience outside the bathtub.
I can't believe how well she did. She is so awesome. Every time I introduce her to something new, she rolls with the punches and is totally open-minded.
Anyway, she was great in the lake, she just splashed around as if it were just a really big bathtub!
<![if !vml]>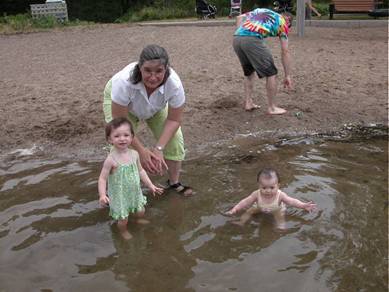 <![endif]>
<![if !vml]>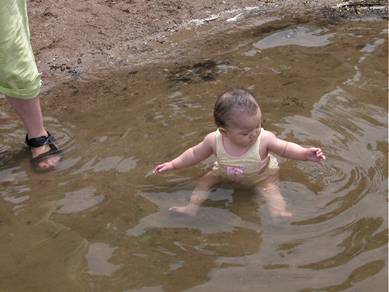 <![endif]>
June 30_files\First Lake Visit.MOV
And speaking of her bath tub, here is another cute bath photo!
<![if !vml]>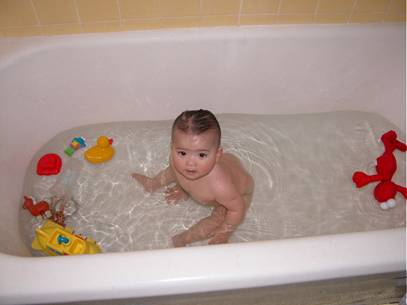 <![endif]>
I am having a great time with her. I just wish Marg could see her brilliant and beautiful niece. I can imagine how much she'd be spoiling this honey bunny. I think about her every morning and night when I'm feeding Annabelle. I imagine her poking her head around the door to say "can I feed her?" I always say yes. But she hasn't come to visit yet.